Jennifer Lawrence, who these days will go to the screen with the comedy "No Hard Feelings" ("Do me a favor"), grew up in Kentucky, where she was not known for being a good student, suffered from anxiety and acting was never an option.
In those times of her childhood, her anxiety grew and her parents began to take her to therapy, according to what Vogue magazine published in 2013. "I was a freak," she said.
"They didn't mess with me or anything. And I wasn't smarter than the other kids, that wasn't why I didn't fit in. I've always had this weird anxiety. She hated recess. I didn't like hiking. Parties stressed me out. He had a very different sense of humor, "she told the Vogue interviewer.
On that same occasion, she confessed that she had never said it before because she did not want it to be misunderstood, but that since she was little she always had a normal idea of ​​what she wanted.
"I was going to be a mother, I was going to be a doctor and I was going to live in Kentucky. But I always knew that she was going to be famous," she stated.
At the age of 14, according to the IMDb page, he traveled to Manhattan to do his first reading by hand. On that trip, an agent of hers noticed her, took a picture of her, and invited her to the studio for another audition.
Ultimately, Lawrence spent that summer in the Big Apple. She before her with only 14 years old she left school to pursue her dream of being an actress and at 16 she moved to California.
The role that marked a turning point in her career was that of Ree, in the film "Winter's bone", from 2010. For this performance, she was nominated for the Golden Globe and the Oscars.
Shortly after came the sagas of "The X-Men" and "The Hunger Games". In 2012 she starred, along with Bradley Cooper, in "Silver Linings Playbook", a title with which she won an Oscar for Best Leading Actress.
In 2013, when he went up to collect his Oscar, he tripped and fell on air. "It was one of the most embarrassing moments of my entire life," she told Vanity Fair in 2014.
"It took me a while to be able to laugh at that. I cried," she added. However, this setback reinforced in front of the general public the naturalness that he displayed.
WORST
Probably the most unpleasant and unfair chapter that he had to face was the dissemination of his private photos in 2014.
The photos were stored in the cloud, which a cybercriminal accessed and spread like wildfire on the internet. Lawrence was not the only one affected and other women suffered the same attack.
"I was so scared," he told the magazine. "I didn't know how it would affect my career."
On the subject, he elaborated: "I can't even describe what it feels like to have my naked body all over the world against my will. It just makes me feel like a piece of meat being dealt for profit."
Lawrence showed his outrage: "It's my body and it should be my choice and the fact that it's not is absolutely disgusting."
In 2018, she took a sabbatical to focus on her role as an activist. Lawrence is involved with the organization Represent US, which denounces political corruption and does awareness work among the youth of her country.
As for her personal life, in 2019 she married the gallery owner Cooke Maroney after a very discreet relationship.
In September 2021 it was made public that the famous actress was expecting her first child, who was born on February 23, 2022.
Lawrence, 32, will return this summer of 2023 to the big screen, this time with a comedy, "No Hard Feelings" ("Do me a favor"), classic and raunchy for adults, which was tailor-made for the Oscar-winning actress.
"I always wanted to do a comedy. And I've read a lot," Lawrence told The Associated Press during an interview about the summer movie season.
"I just didn't read anything that was funny enough," he added.
"No Hard Feelings" was inspired by an actual Craigslist ad posted by parents looking for a woman to "date" their son out of his shell the summer before college.
There are debates about how real the "real ad" was, but thinking about the woman who might respond to an ad like that was a funny enough premise to get the attention of several producers and writer-director Gene Stupnitsky.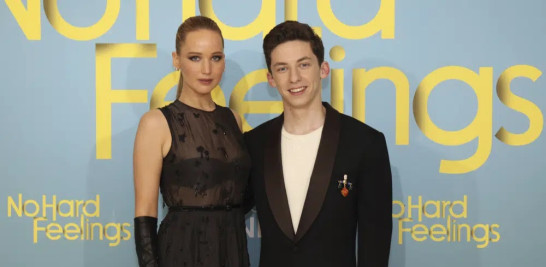 Stupnitsky, An Emmy-nominated actor from "The Office" who also spearheaded and co-wrote the 2019 hit "Good Boys," he knew exactly who he would call on. He pitched the idea to Lawrence one night at a dinner party with friends where, he estimated, they had had "eight or nine martinis" between them.
The two met over a decade ago, through a mutual friend, at the Medieval Times dinner and show.
Lawrence, he recalled, was dressed in a full wizard's outfit. And soon they became true friends.
Stupnitsky even introduced Lawrence to the one who would become her husband.
"I owed him one," Lawrence said. "That's why I made this movie."
With Lawrence on board to star and produce, the film became a hot commodity, with streaming services and studios vying for the rights to make it. In the end they opted for Sony and a traditional theatrical release.
In "No Hard Feelings", Lawrence's character, Maddie, has money problems.
As an Uber driver without a car, she's in a bind.
So when you see that ad with the promise of a Buick Regal as payment, you take the bait.
Maddie meets 19-year-old Percy (Andrew Barth Feldman) for the first time in a pink minidress and high heels, acting openly flirtatious and available.
"She's dressed as what she thinks is a 19-year-old's idea of ​​a sexual fantasy. And she is wrong, "Stupnitsky said. "He's like the only guy she can't seduce."
The situation escalates from there when she tries to get him home. He thinks he's being kidnapped and, as anyone who's seen a preview of the movie knows, she ends up getting pepper sprayed. But there is also a sweet core to the film.
We would love to say thanks to the author of this short article for this remarkable material

Jennifer Lawrence: